If you are health conscious and not using butter or GHEE in your diet, this is for you. Desi Ghee is not other than clarified butter, which means that butter is been heated until the milk parts separate and just the fats remain.
How to Use Ghee
Ghee is the best alternative to butter in high-heat cooking, since it has a smoke point of 450 F, compared to others alternatives. The fat contents are most commonly tangled in Indian cooking, ghee can work wonders instead of the butter or oil in most recipes. Ghee can be swapped by vegetable oil, baked goods, or used for shallow and deep-frying. Or simply melt it and smear it on bread, roti, for a snack, add half a teaspoon of ghee over popcorn, or drizzling ghee to vegetables before serving.
What Does It Taste Like?
Ghee tastes like butter but with a lot of difference in taste, it will make dessert melt on tongue with a nice aroma, nutty background note. The quality and texture of ghee differ in flavor depending on the milk quality used to make it. Ghee can be usable at room temperature but turns firm and granular in the refrigerator so avoid keeping it in the refrigerator.
Ghee processed with three layers
You can purchase packaged ghee, but before buying it check the procedure of making it. Ghee made from desi cow is very nutritious. When butter melts, it divides into three distinct layers. On medium heat, also take just a few minutes. The top layer is covered with foams and the milk solids lay to the bottom. The ghee is present in the middle. For best results, start with high-quality ghee produced from the milk of grass-fed cows.
Is Ghee Healthy?
Ghee is considered to be healthy then butter, because ghee is only fat and good fat. Ghee has lots of vitamins like A, E and K2 for your good health. Ghee is said to be good for strong bones & brain, improves digestion and inflammation. Having a spoon of ghee will keep you energetic and healthy.
Is Ghee dairy free?
Ghee is the only dairy product which is lactose and casein free, people allergic to dairy products can have ghee without problem.
Here are some yummy recipes you might enjoy making with ghee.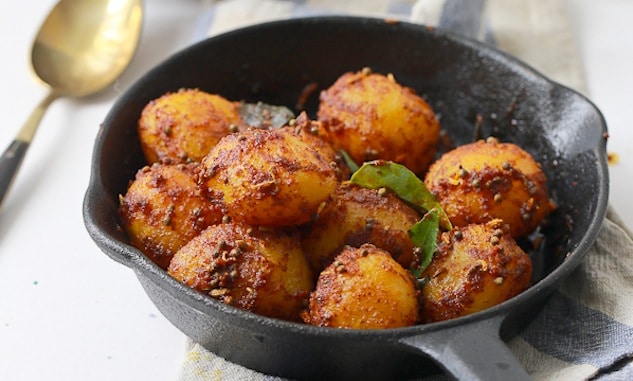 Bombay potatoes :

Ingredients
4 tbsp Ghee
¼ tsp mustard seeds
2 pinches of chili powder
¼ tsp turmeric powder
350g/12oz potatoes, boiled and quartered
salt to taste
Method
Heat the Ghee in a pan on a medium heat setting.
To check that the Ghee is hot enough, sprinkle in a few mustard seeds, if they pop the Ghee is ready. Then add the remainder of the mustard seeds.
Add the chili and turmeric powders to the sizzling seeds, and salt to taste.
Fry this pungent mixture of oil and spices for 1 minute then add the potatoes. Fry for about 4 minutes until the potatoes are smothered in seeds and appear to have crispy edges. They will look quite yellow in color. Cover the pan and on a low heat, cook the potatoes for a further 5 minutes.
Serve immediately.
---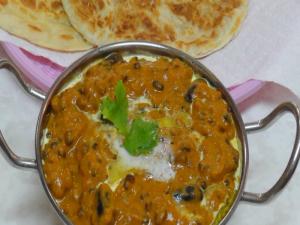 Dal makhani with ghee

Ingredients
¾ cup whole urad dal,
¼ cup rajma,
3 cups water for pressure cooking + 1 cup of water,
1 medium onion finely chopped onions
1 tsp ginger garlic paste
2 large tomatoes
½ tsp cumin seeds
2 cloves
2 cardamoms
1-inch cinnamon
1 bay leaf
½ tsp red chili powder
3 tbsp low fat cream
3 tbsp GHEE
salt as required
Method
soak whole urad dal, rajma/kidney beans overnight in enough water overnight.
wash, drain and add 3 cups water, pressure cooks it, till both the urad dal and rajma have cooked thoroughly and softened.
Once done if you see the dal not cook completely you can also just mash the urad dal with a mashed or add it in a blender or mixer jar, give a pluse it will get mash
take tomatoes blend to a smooth puree. keep aside.
In a pan, heat 3 tbsp desi ghee, add cumin seeds, cloves, cardamoms, cinnamon, bay leaf.
add finely chopped onions, saute and then add chili powder, turmeric powder, saute well, add ginger garlic paste stir-sautes well.
then add the tomato puree and stir again, saute this mixture on a low to medium flame, till you see fat releasing from the sides.
then add the cooked urad dal and rajma beans.Add a cup water or as required.
stir very well and simmer the dal makhani uncovered on a low flame.
stir very well and simmer the dal makhani uncovered on a low flame.keep on stirring often so that the lentils don't stick to the bottom of the pan.
once the dal makhani has begun to thicken, add salt and cream, mix well. then switch off the flame.
---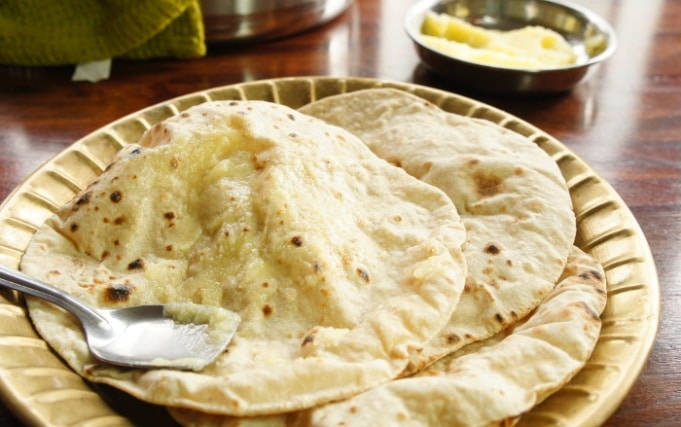 Rotis with Ghee

Ingredients:
2 cups wholewheat Atta flour
3 tbsp or more Ghee(you can adjust the amount)
1 tsp salt
warm water about half a cup
Method:
Mix the flour and salt together , then add the ghee and mix.
Add the warm water little by little, kneading until it forms a dough.
Rest the dough for about one or two hours, keeping it covered.
Divide the dough, flatten it and cook on both sides until done.
Notes:
Always use warm water for soft rotis.
Knead the dough thoroughly.
You can sprinkle some oil when cooking but I prefer not to.
If you make it ahead of time, keep it covered till you eat it.
You can transfer cooked rotis into the freezer properly wrapping it, then take the required quantity out and heat it again one by one
---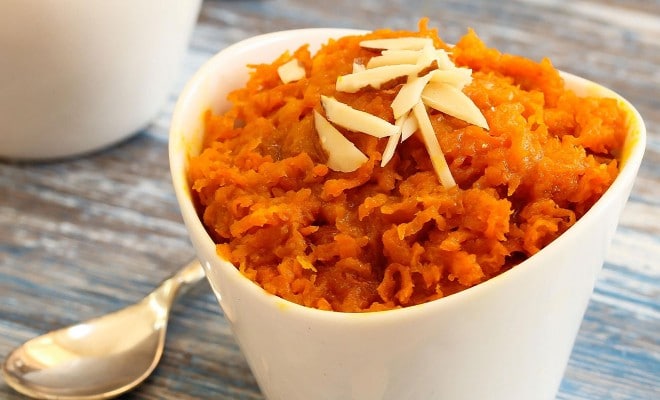 Gajar ka halwa

INGREDIENTS:
Ghee (Clarified Butter) – 2 tbsp (or you can substitute with unsalted butter)
Carrots – 3 cups or 1 pound or 6 medium size (peeled & shredded)
Milk 2% Reduced Fat – 1 1/2 cups
Cardamom Powder – 1/2 tsp
Sugar – 6 tbsp
Cashews – 2 to 3 tbsp (dry roasted & chopped)
Method
Dry roast the cashew nuts in small pan. Once they slightly brown, remove them from the stove. Chop the cashews. Set aside!
Peel carrots.
Shred carrots. I used my Cusinart 11 Cup Food Processor – probably one of the best kitchen gadgets you'll invest in.
Heat a wok on medium heat. Once hot, add ghee (clarified butter) or butter.
Add shredded carrots and cook for about 8 to 10 minutes until the carrots cook down. Keep stirring to avoid burning.
Add milk. Allow the milk to cook down for about 6 minutes, or until the milk reduces. Keep stirring to avoid burning.
This is what you should have.
Add cardamom powder.
Add sugar.
This is what you should have. Now keep stirring until all the milk evaporates.. should be a few minutes.
Notice the milk is evaporated, add half of the dry roasted cashew nuts. Combine.
Transfer the Gajar Ka Halwa to a bowl and garnish with the remaining cashews.
---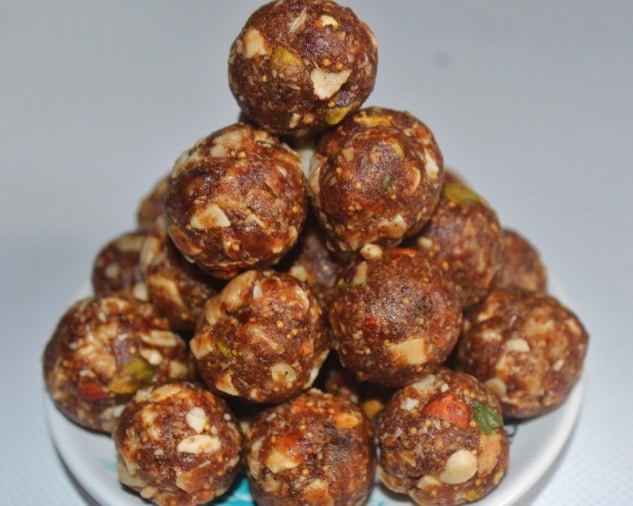 Dry fruits ladoo

INGREDIENTS
Dates – 15
Figs – 5
Raisins – around 20
Badam – 25 whole
Cashews- 10 broken roughly
Pista – 20 whole
*Mixed Nuts – 1.5 tbsp chopped
Melted Ghee – 1 tsp
Cardamom powder – 1/8 tsp
Method :
Deseed dates. Chop them roughly. Blend it a mixer, just run it once and pulse it for 2 times thats enough, Keep aside. Now take figs.
Chop them finely and grind figs, raisins together to coarse mixture. Set aside.
Toast nuts till its slightly browned. Then grind it to a coarse powder. Set aside.
In a pan add dates, gigs mixture along with ghee and saute for 5mins in low flame, so that it becomes soft. Now add cardamom powder.
Add the nuts mixture and saute for a minute, mix well and bring everything together. Switch off. Allow the mixture to cool down for few mins. Now add chopped mixed nuts.
Mix well. Now shape them into small lemon sized ladoos. Arrange them in liners and store it.
Keeps well for 5 days in room temperature itself!
---
Gond ke ladoo

Ingredients
3 tbsp edible gum (gaund)
4 1/2 tbsp ghee
1 1/4 cups whole wheat flour (gehun ka atta)
1/2 cup powdered sugar
1/2 tsp cardamom (elaichi) powder
ghee for deep-frying
Method
Heat 3½ tbsp of ghee in a broad non-stick pan, add the whole wheat flour and roast it over a medium flame for 6 minutes, while stirring continuously. Keep aside to cool completely.
Heat the ghee for deep-frying in a deep non-stick kadhai and deep-fry the gaund till the pieces puffs up. Drain on an absorbent paper and keep aside.
Combine the powdered sugar, fried gaund, cardamom powder, remaining 1 tbsp of ghee and roasted whole wheat flour in a deep bowl and mix well.
Divide the mixture into 15 portions and shape each portion into a round ball.
Serve or store in an air-tight container.
---
Gram Flour Laddu Recipe
Ingredients:
1 cup Besan (gram flour)
½ cup Sugar
¼ cup Desi Ghee
3 Cardamoms
Crushed Cashews (optional)
Recipe:
Take ½ cup sugar and a few cardamoms, and with the help of a blender grind them finely into a powder.
Heat 1 ½ tablespoons of desi ghee in a pan.
Add cashews as much needed and fry them on a medium flame. Take the cashews out to a bowl. (Optional)
Add a cup of besan to the same pan and minimize the flame. Do not pour extra ghee at this point, or the besan will not be easily fried.
Stir the mixture of desi ghee and besan finely. Turn to medium flame and mix the besan consistently to prevent burning.
Try to break down any lumps in the mixture during stirring. After a while, the besan will transform color slightly and give out an enticing aroma.
Turn the flame to low and pour the rest of the ghee into the pan. Keep mixing as the besan slowly absorbs the ghee.
Mix until the besan becomes smooth and lump-free, turning golden yellowish into color.
Turn off the flame when the kitchen is brimming with the aroma of the mixture. Let the mixture cool completely.
Add roasted cashews (optional) along with the powdered sugar and cardamom mixture. Pour sugar according to taste. Blend the mixture with your hands to assure even mixing.
Apply a little ghee on your palms to shape the mixture into the shape of laddus.