People have been using desi ghee for hair growth, and you can get the same benefit too. Just massage your scalp with warm ghee mixed with equal parts of coconut oil. The blend nourishes your scalp and encourages hair growth.
As a natural conditioner desi cow milk ghee owing to its essential fatty acid content, it can improve circulation to the scalp through simple massages Or consume it to benefit from vitamins A, D, and E that support sebum production, fight hair loss and protect your locks from oxidative stress and hair fall.
Desi ghee is also a great source of Omega 3 fatty acids and antioxidants; therefore it can act as an excellent natural conditioner for frizzy and dry hairs.
To get that hassle-free and frizz-free and smooth hair you just need to have a hair and head massage with Desi Ghee then rinse you can rinse after 20 mins with warm water.
This treatment will provide you with silky and shiny hair. As a natural conditioner, Ghee penetrates the section of hair follicles and hydrates the hair root from within it, and improves hair's strength and texture as well.
Healthy hair means more confidence when you are shining your hair it reduces stress. But if you are wasting your money on hundreds of bucks on conditioners and shampoos, adding hairstyle products, then think about it, as we know good hair days are always better than rest.
You can choose a natural home product; desi cow ghee is good for hair and brings multiple benefits. India is meant to be the origin of ghee, it has healing properties,
Ghee is useful as an anti-inflammatory and antioxidant ingredient. A diet that's rich in fatty acids can make your hair look better than earlier. If you are adding ghee to your diet it is a delicious alternative to butter.
After using ghee in the diet as a supplement to create a marked difference in hair looks. Scalp absorbs the Antioxidants and fatty acids easily, ghee helps you in deep conditioning and repairing dry, frizzy, damaged hair.
How to use ghee for hair treatment:
As a hair mask, the use of ghee is a simple procedure. Take a few tablespoons of ghee and heat it for 10 seconds or if you are using the microwave then less than 10 seconds are enough, then simply rub your hands with ghee by your hand palms to warm it up.
Apply ghee directly to your hair, if you have any spilt hair coat that part also. All these procedures leave with your hair for 1 to 2 hours. Keep doing this for better results. People who include ghee as a cooking ingredient also have many benefits.
How to:
Take equal amounts of olive or coconut oil and ghee, blend it into a fine mixture after that massage to hair for 20 minutes. Wash your hair with a mild shampoo.


The best natural hair care solution:
Natural conditioner
Treat Split Ends
Silky –Shine hairs
Prevent Dandruff
Treat Scalp Infection
Prevent Premature Greying
Prevent Hair Fall and Increase Hair Growth
Incorporating Desi Cow Ghee into your regular hair care routine will get you shiny, soft and thick locks, thanks to its moisturizing quality. Desi Cow Ghee (clarified butter) is being used in Ayurveda for centuries.
It is a simple natural one of ancient hair-care therapy. Desi Ghee is a natural conditioner for hair growth. Cow Ghee for hair owes its essential fatty acid content and massage with it can improve blood circulation. Shiro Abhyanga is one of the Ayurvedic medicational therapy used for Ghee head massage.
The Ghee contains vitamins A, D, and E that support sebum production, fight hair loss and protect your locks from oxidative stress and hair fall. So, consuming ghee regularly will benefit you in many ways for healthy hair growth.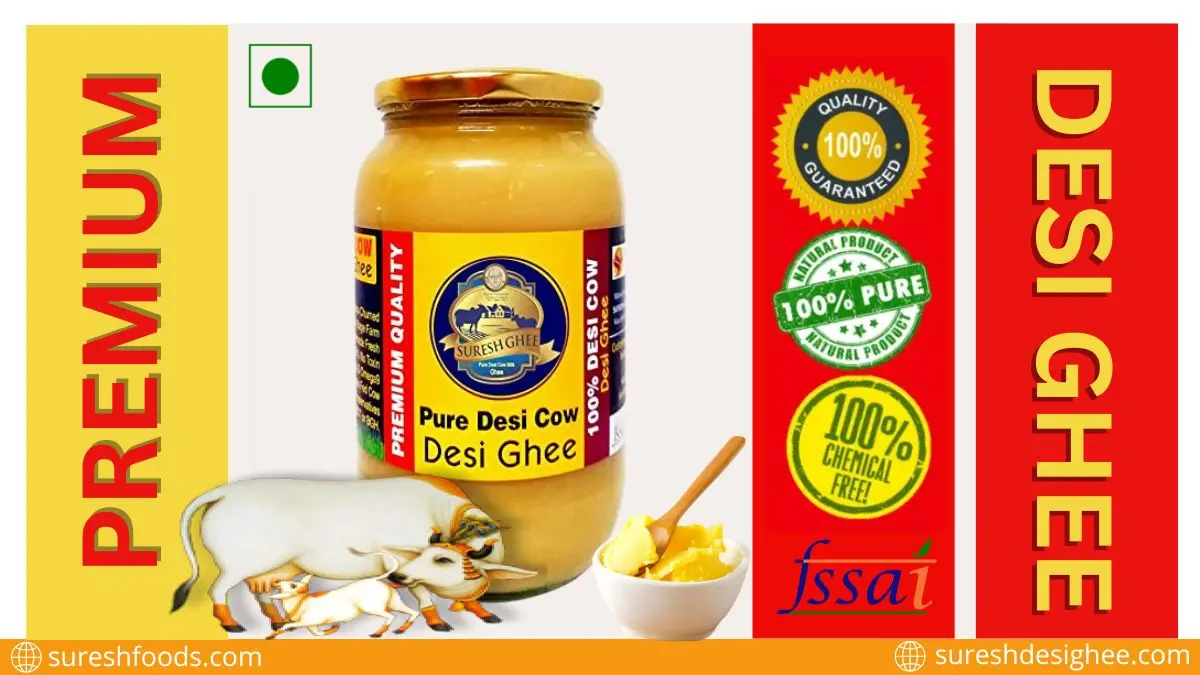 Buy Pure Desi Cow Ghee Online: Order Now. Free Shipping
Desi cow ghee, used in Ayurveda for centuries, is a simple natural alternative hair-care therapy. A natural conditioner owing to its essential fatty acid content can improve circulation to the scalp through simple massages or Shiro abhyanga. Or consume it to benefit from vitamins A, D, and E that support sebum production, fight hair loss and protect your locks from oxidative stress and hair fall.
Nowadays, we are bombarded with a range of products every day from creams, oils, shampoos and conditioners, all holding the promise of strong and shiny hair. But wonder if you can replace these glitzy products with simple age-old hair-care methods that can work miracles.
Desi Cow Ghee is one such oft-overlooked remedy that can do your hair good from outside and inside. Cow Ghee benefits for hair are a proven result as per the research.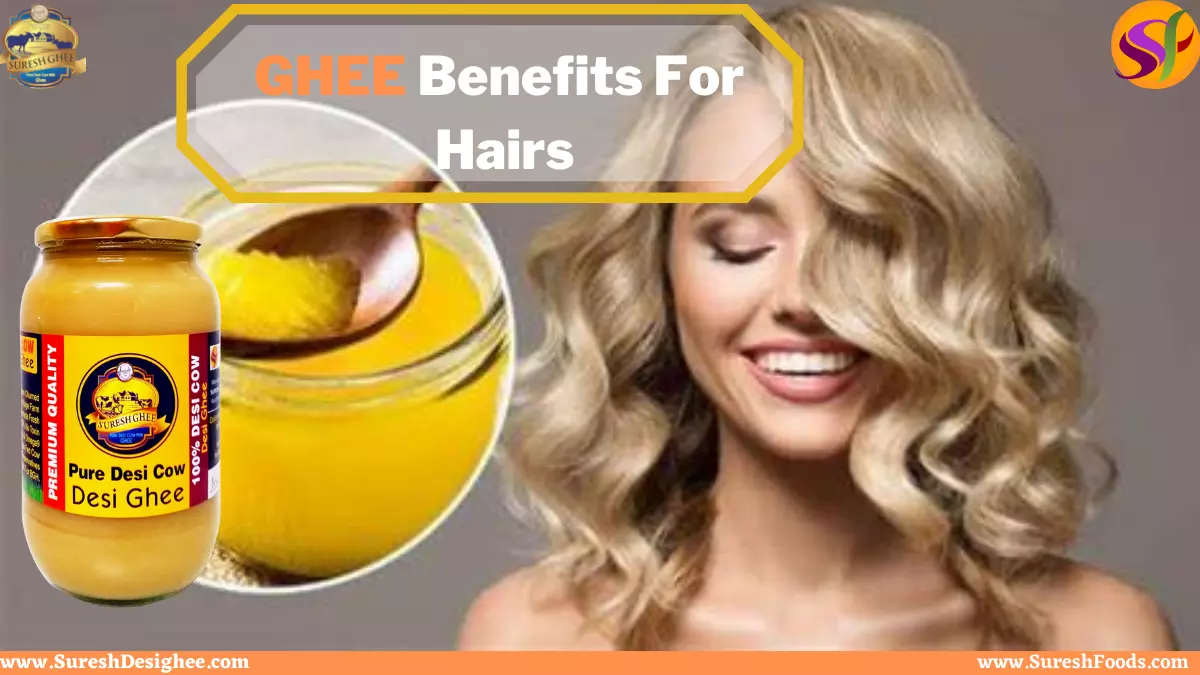 Ghee works as a deeply nourishing treatment for hair. Let us check the Ghee benefits for hair health:

1. Use Ghee as a natural conditioner:
Ghee is a great source of antioxidants and Omega 3ftaty acids; therefore it acts as an excellent natural conditioner for dry and frizzy hair.
2. Use Ghee to Treat Split Ends
Because of it's antioxidant and fatty acids Ghee is a great home remedy for treating split ends. Split ends happen when the ends of your hair becomes dry, brittle, and frayed, exposure to extreme weather conditions, and hair care techniques such as blow-drying, straightening, and curling may cause split ends. Ghee hydrates and removes dryness from hair ends.

3. Get Silky –Shiny hairs with Ghee
Ghee is not but the butter oil and It is being used as a massage oil in Ayurveda. Use ghee as hair oil to get silky & soft hair. Wash your hair and apply ghee directly on the hair on your washed hairs, wait for 20 minutes and rinse off with lemon water, this will give a natural shine to your hairs.
Dandruff is a form of fungus on your scalp. Anti-allergic and anti-inflammation properties of Desi Cow ghee help to get rid of dandruff and itchy scalp. To help you with the same, For oily scalp – mix ghee with lemon juice. Apply on the scalp and massage for some time. Rinse off.
For dry hair, mix hot ghee and almond oil. Apply this on the scalp and the ends of the hair. After 15 minutes, rinse off with rose water to remove oil from the hair. This is a great natural remedy to prevent dandruff.
5. Use Ghee to treat Scalp Infection
Ghee, being a dairy product, helps to kill the bactria that cause scalp infection. Massage the scalp with hot ghee twice a week to get rid of scalp infections. Ghee increases blood circulation and leaves your scalp feeling cleansed and healthy.

Pure Desi Cow Ghee : SureshFoods.com
Buy cow Ghee Online: Order Now. Free Shipping

6. Prevent Premature Greying
An infected and unhealthy skin of the scalp develops premature grey hairs, that too in the early stages of human age. Our mothers and grandmothers have been using desi cow ghee as a treatment of premature greying and to get long black hairs.
To get long black hairs apply lukewarm ghee on hair like hair oil and wrap the hair with a steamed towel for 15 minutes. Later rinse off with mild shampoo. This will not only treat premature greying but will also prevent premature greying symptoms.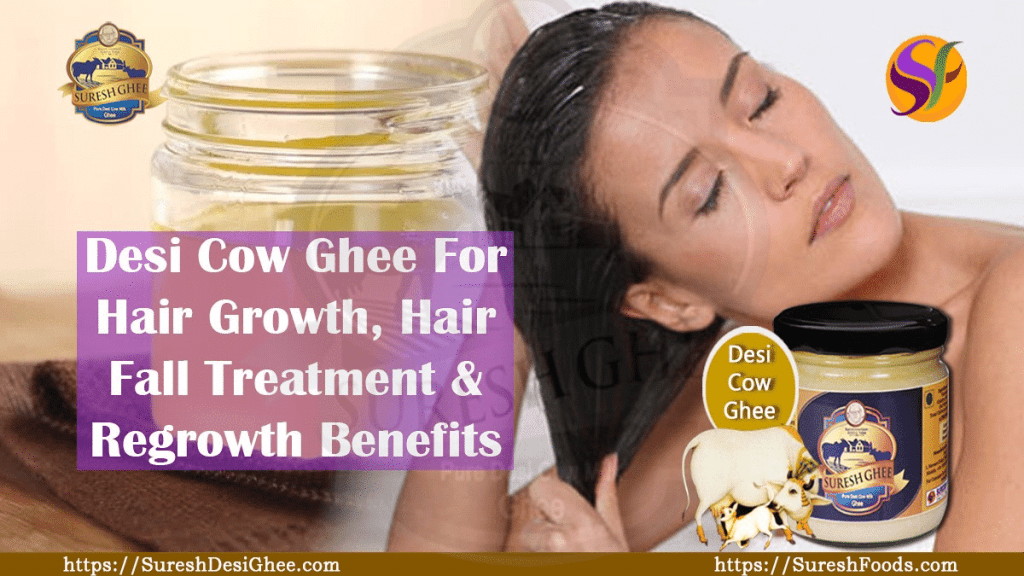 7. Prevent Hair Fall and increase Hair Growth
Most people lose their hair in the 30's because of hormone change, although people experience hair fall because of stress, undernourished hair and deficiencies et al – but ghee comes in handy to treat hair fall with its high Omega 3 & Omega 9 fatty acids, conjugated linoleic acid, vitamin and mineral content.
Ghee also contains carotenoids and vitamins A and E, these antioxidants fight free radicals and promote skin cell growth which in turn leads to a nourished scalp all of which nourish the scalp & prompt healthy hair growth.
How to: Heat sufficient amounts of cow ghee in a container and add just the right amount (4 almonds cut into pieces) to the bowl. Wait till the almonds turn black and remove the bowl from the flame. Filter out the almonds and apply cow ghee on your hair while still warm. Wash off using warm water.
This hair treatment with Ghee will stop hair fall, make them silky healthy, shiny and strong; but all you need to use is Pure Desi Cow Ghee. And repeat the remedies once a week for better results.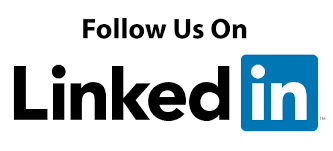 Cow ghee is a great source of antioxidants and Omega 3 Fatty acids, it works as a natural conditioner for dry and frizzy hair. People experience hair fall because of inadequate nutrition, lack of vitamin B6, stress, anxiety, depression, anxiety, sudden shock, and heredity.
To prevent hair loss due to any of these reasons, you can use desi ghee for hair/scalp massage.
Head Massage with cow ghee is one of the oldest and the most efficient home remedies for hair regrowth. It plays a functional role in hair growth. Ghee removes frizziness and makes hair shiny. It is a great source of antioxidants. Ghee works as a deep nourishing remedy for hair.
8. Your Ultimate Solution for Dandruff
Handling your dandruff on a dry scalp can be both annoying and embarrassing. Multiple people struggle to tackle such problems as the presence of naturally forming fungi can give rise to dryness and flakiness.
Thanks to the nourishment of cow ghee, which in particular, has the potential to combat this concern. Cow ghee, being rich in vitamins, minerals, and contains anti-allergic and anti-inflammatory properties. Thorough application of cow ghee can resist the growth of these fungi and efficiently eliminate dandruff.
Further advantages of Ghee for Your Hair:
Avoid hair fall
Strengthens roots of the hair
Supports in the treatment of scalp infections
Improves hair texture
Addresses premature signs of greying
Delivers necessary hydration to your hair
The intake of milk with ghee and turmeric may gradually support bald patches.
9. Say Goodbye to an Itchy Scalp
If you're figuring out a home remedy for an itchy scalp, try applying a ghee-based hair mask, which is one of the multiple benefits of ghee.
For normal hair types, you can combine lemon juice with ghee, apply it gently into your scalp, leave it to sit for some minutes, and then rinse it off.
On the other hand, you can mix almond oil with warm ghee for a scalp and hair massage.Let it rest for 20 minutes and wash it off with rose water or with a mild shampoo.
Bid Farewell to Split Ends
Several hair products utilized today consist of chemicals that can result in split ends. Ghee, having the presence of fatty acids and antioxidants, can efficiently hydrate and alleviate dryness at the ends of your hair.
To gain results from this, take a sufficient quantity of warmed desi ghee and massage it to the tips of your hair. Utilize a wide-toothed comb to evenly distribute the hair through your split ends without breakage. After 10 to 15 minutes, rinse it off with a mild shampoo.