Pure desi ghee is made out of cow's milk and is said to be extremely powerful. Ghee is considered to be a natural nourishing ingredient that can help you in getting soft and supple skin.
We often end up spending a lot of money on various skincare products just to get clear and glowing skin. However, a simple ingredient like ghee can make a lot of difference here. Just like our body, our skin needs essential nutrients too.
Ghee is known to be suitable for all skin types and it also has vital fatty acids that help in the hydration of the skin cells. It is also known to be one of the best organic anti-ageing ingredients.

Ayurveda has pointed to the external use of ghee for ages. It is said to nurture the body and the intellect, down to the very core of our being, and it has been used traditionally for both preventative care and for beauty routines.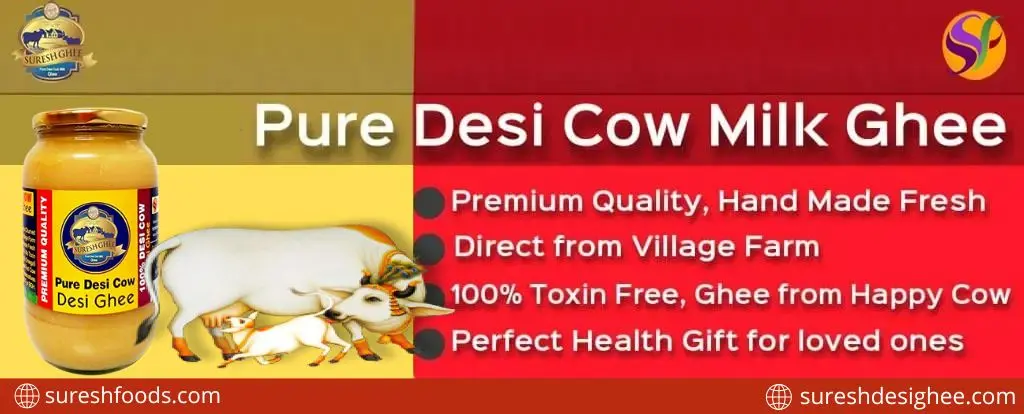 Buy Pure Ghee Online : Order Now. Free Shipping

And the more we think about it, the more it makes sense that ghee is used topically. After all, our skin is our biggest organ, and it absorbs anything we put on it. Sattvic, full of prana, and great support in building ojas, ghee is composed of good fats that feed, nourish, and moisturize the skin, leaving behind a healthy, beautiful radiance.
In terms of the doshas, ghee is a quintessential Kapha substance and is particularly balanced for excess Vata, especially excess dryness.
By using ghee topically, it supports vibrant hair, soft and silky elbows, heels, and knees, luscious lips, gorgeous cuticles, and so much more!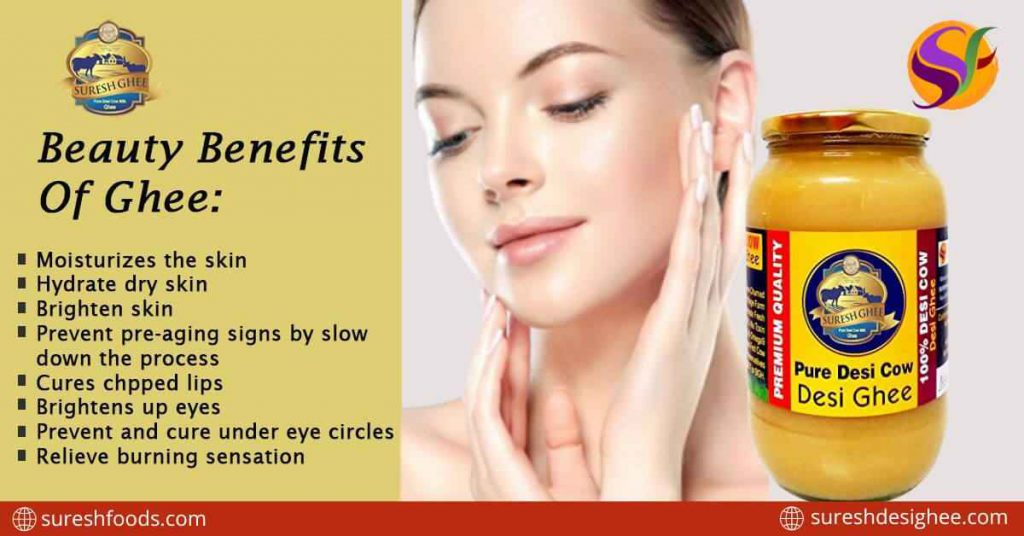 Here are ten of our favorite ways we use ghee:
As a lip balm: It's as easy as it sounds! Desi Cow Ghee can be used as a lip balm for beautiful, luscious lips. It is also said that if you apply ghee to your navel at bedtime regularly – it prevents dryness and makes lips soft and pink.
When we complain to mom about chapped lips, the first thing she tells us to do is apply ghee on lips. Lip balms may come and go, but ghee has property against dryness. It is effective in healing dry chapped lips. Before going to bed just apply a thin layer on your lips to get results into luscious lips.
For soft elbows and knees—and any place that needs a little extra hydrating.
For silky heels: Rub a little on your heels (and on your feet, if you want!) before bed, then slip on some socks to keep your sheets clean.
For extra protection for your feet: Mix a little ghee with some tea tree and calendula extracts to keep your feet protected and healthy.
On the hands and cuticles: Ghee can be used in place of lotion on your hands and cuticles. Try rubbing some into your hands while you cook.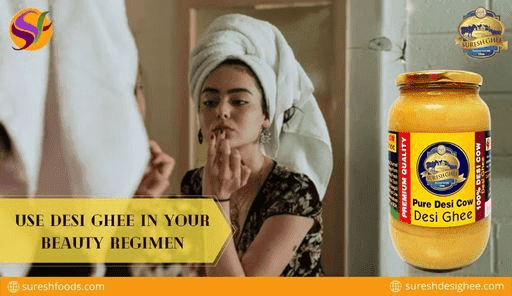 As a hair treatment: Okay, this isn't a skincare treatment, but it's so good we had to include it on the list! For volume and softness, mix one tablespoon ghee plus a tablespoon of coconut or olive oil. Warm it a little and massage it into the scalp. Let it soak in as long as you want, then follow the usual procedure for washing oil out of your hair.
In the bath: That's right, Add a little ghee to your bath, along with your favorite essential oils, and emerge with happy, hydrated skin.
To remove eye makeup: Ghee earns extra points as both an effective and all-natural eye makeup remover as well as a rejuvenating eye cream. Mix together one teaspoon of ghee and one drop of vitamin E oil. Apply to the eyelids and lashes and simply wipe with cotton to remove makeup. Any left on the lids will act as an eye cream!
To prevent diaper rash: For happy baby bottoms that are free of diaper rash, use ghee with a touch of Soothing Skin Balm at night after the last diaper change of the day.
As a topical salve: Any time you have a bump or minor scrape that needs a little extra love, apply a mixture of ghee with a small amount of turmeric powder. Turmeric is known in Ayurveda for its own long list of external uses, and pairing it with ghee makes a natural combination! (Apply with care: turmeric may discolor your skin a bit and can stain surfaces and clothing.)
For getting bright skin: use a simple mask of Raw Milk, basen and an equal amount of Ghee apply the mask and keep it for 20-30 minutes and wash it off with cold water. You will instantly notice the brightness in your skin.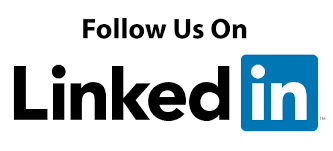 Ghee purifies the skin and imparts a healthy beautiful glow. Ghee can be used to make a face pack to get glowing skin. Take some ghee and milk, and to this add gram flour (besan) and mix well.
Apply this paste on the face and wait for 20 minutes and then wash off your face with cold water. This face pack will add a beautiful glow to your skin. Therefore, in this way, we can get the benefit of ghee for the face and makes our skin glow.
Read More : 10 Superfoods Of Winter
Scars
Desi Ghee is one of the options for you to try if you have scars on your skin. Sometimes when not caring for these can become permanent marks.
Ghee face mask for dry skin
Face masks made up of ghee are highly effective for skin whitening and brightening. Here is the method how to do it at home:
Mix besan along with the same proportion of water and ghee.
Make a paste and you can apply it not only on your face but also on your neck, hands.
Keep it DIY face mask on your face for 15 minutes and rinse with cold water.
Burn Wounds
The remedy with desi ghee is that it's good for soothing burns – whether it's kitchen burns from the stovetop or sunburn. Just apply a suitable amount to your skin. Keep reapplying after you wash your skin.
It's said to promote rapid healing and even prevent a bad burn scar from forming. This will aid in extracting the heat from the wound and the process will relieve the skin. Desi ghee is a good home remedy for skin burns.
Read more : How desi ghee helps in everyday health problems
Black Spots
For dark circles or black spots; revive dull and lifeless skin by using ghee in your face pack, just before you are off to bed. Applying ghee on the face overnight will help to lighten the black spots. If you are tired of using eye creams and serum to no effect.
Then Ghee surely works on it just try it. Apply ghee under your eyes and eyelids. Do follow this procedure at night and wash it out the next morning for better results on dark, baggy circles.
Makes your skin glow
Ghee purifies the entire system and seals in the natural moisture of the skin. Consequently, the dull, dry skin becomes a healthy and glowing face. Repeat this remedy twice a week to experience amazing skin health benefits of ghee which is to make your skin glow.
Apply ghee on your face to get rid of dullness to keep it soft, supple, and nourished. To moisturize your skin deeply, heat ghee and apply it directly to the body so you can add water mixed with ghee as a remedy for dry face. Massage in a circular motion in the face and wash it out after 20 minutes.
Amazing Benefits of Ghee
According to Ayurveda experts, ghee aids in digestion. Along with that, it also prevents constipation and helps to expel toxins from the body.
Being abundant in vitamin A, E, and antioxidants, adding ghee to your meals can help overcome nutritional deficiencies.
It is said to fortify the bones and the immune system. lowers the bad cholesterol and enhances the good cholesterol.
The antioxidants in ghee have antiviral properties so if a person falls sick often, feeding them ghee regularly can help improve their immune system.
A spoonful of unadulterated ghee fed to children every day will help in growth and it is good for improving the health of convalescing people.
Apart from the health benefits pure quality ghee is easy to store and doesn't spoil easily. It can be used for a long time safely and effectively.
FAQ
What benefits does ghee offer for the skin?
Ghee tends to deliver an impressive array of skin-nourishing elements such as vitamins A, E, and D, beneficial fatty acids, as well as antioxidants. Such components vests multiple benefits, involving deep moisturization, anti-aging properties, shields against harmful UV rays, and the improved natural radiance.
Is ghee a suitable moisturizer?
Ghee's distinct fatty acid composition assures intense and enduring skin hydration. By applying a thin layer of ghee required, you can efficiently lock in moisture, defending from dryness and flakiness, finally making it a supreme natural moisturizing agent.
Does ghee work well to cure eczema?
Indeed, ghee's anti-inflammatory attributes can deliver solace to irritated skin, providing relief from conditions such as eczema. It helps in curbing redness, itching, and inflammation.
How can ghee be included into my skincare regimen?
Ghee is exceptionally versatile and can offer to be used as a cleanser, moisturizer, or even as a base for creating any DIY facial masks. For routine care, consider giving a massage to your face with ghee in the morning, and you might also consider utilizing it as an overnight mask to provide a profound hydration.
Can I concoct a facial cream utilizing ghee?
You can consider blending ghee along with a few drops of your preferred essential oil, such as lavender or rose, to create a nourishing facial cream which not only imparts hydration but also suffuses a soothing fragrance.